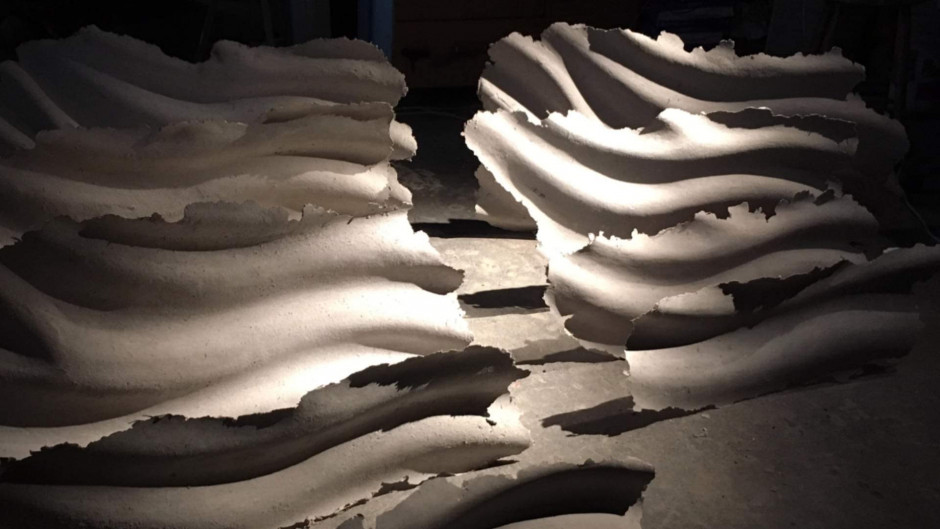 Pneuma – Air, wind, breath, spirit
Opens at The Epidemic of Art/Konstepidemin, October 14
In 2016, Teater Spira commissioned new music from composer Paula Matthusen, with a deliberate carte blanche. There was neither play nor theme – free hands! The music would be the very start. Sculptor Per Agélii and playwright Jonas Froberg got to listen to Paula's challenging music and from there, create their own pieces. Now, director Robert Bolin has wrought these three, music, sculpture and text, into one stage performance: Pneuma.
Pneuma – Directed by Robert Bolin. Pneuma contains three distinct works of art.
• "Five Pillars", music by Paula Matthusen
• "Pneuma", a monologue by Jonas Froberg
• "Waves", sculpture by Per Agélii
Anna Svensdotter performs "Invitation" (pre–recorded), the flute solo in part 4 of the 5-part music.
Pneuma – when?
Thursday to Sunday October 14–17 at 6 p.m. and 8 p.m. every night
Where?
Studio 17, Konstepidemin/The Epidemic of Art, Gothenburg/Göteborg
Directions
Studio 17, at the very end of Carl–Erik Hammaréns Backe, house no 17
From Linnéplatsen, walk up all the way, keep right, to the very end of the road. You will see "17" on the very last house.
How to book
Send a text message to: +46709850454.
Price: SEK 200 (SEK 50 for the unemployed, students, the retired and the professional artist)
Who? – are the artists behind Pneuma?
Paula Matthusen
has written music for dance and theatre; been awarded a Fulbright grant and teaches experimental music and composition at Wesleyan University. Listen to her music here: Soundcloud
More about Paula, here: www.paulamatthusen.com
Per Agélii
Per is a sculptor working in granite, concrete and paper. He has received The Stena Grant and exhibited giant granite mushrooms at Göteborg Art Museum. Did you see the very slow snails
at Konstepidemin? Och the flowing derricks in Keillers Park? They are all Per's work. See more here: https://www.instagram.com/peragelii and http://www.peragelii.se. Here is Preludium, Per's study for Waves: Preludium.
Jonas Fröberg
Jonas is a playwright and actor, and started Teater Spira in 1997 (first play written)/2000 (first performance). Awarded The Swedish Authors' Fund grants for his plays.
Robert Bolin
Robert is a director, actor and a psychologist working at the Borås Hospital. With a double Master of Fine Arts and Theatre (directing) and Psychology, he was chosen to weave the distinct voices of artists Per, Paula and Jonas, and form a stage piece with his vision. He has directed Teater Spira's "Lay off"/"Varsel", a documentary about Volvo workers through the financial crisis 2007–2013.
Anna Svensdotter
Paula's new music "Five Pillars" is pre-recorded by Paula for the performance. Pt 4 (out of 5 parts) is a live recording from Gothenburg, where flutist Anna Svensdotter performs the solo "Invitation" together with pt. 4. Listen to Anna's work here: Soundcloud.
Learn more about Anna here: www.annasvensdotter.com.
Pneuma is funded by The Swedish Arts Grants Committee, The Swedish Authors' Fund, Göteborg City and The Swedish Arts Council. Pneuma is a part of the Göteborg International Biannual for Contemporary Art, GIBCA Extended.
Welcome!